Bonjour bonjour! Who are you, and what brought you to marketing?
I'm Melissa, based in Los Angeles and currently working at Miro in product marketing focusing on our enterprise customers.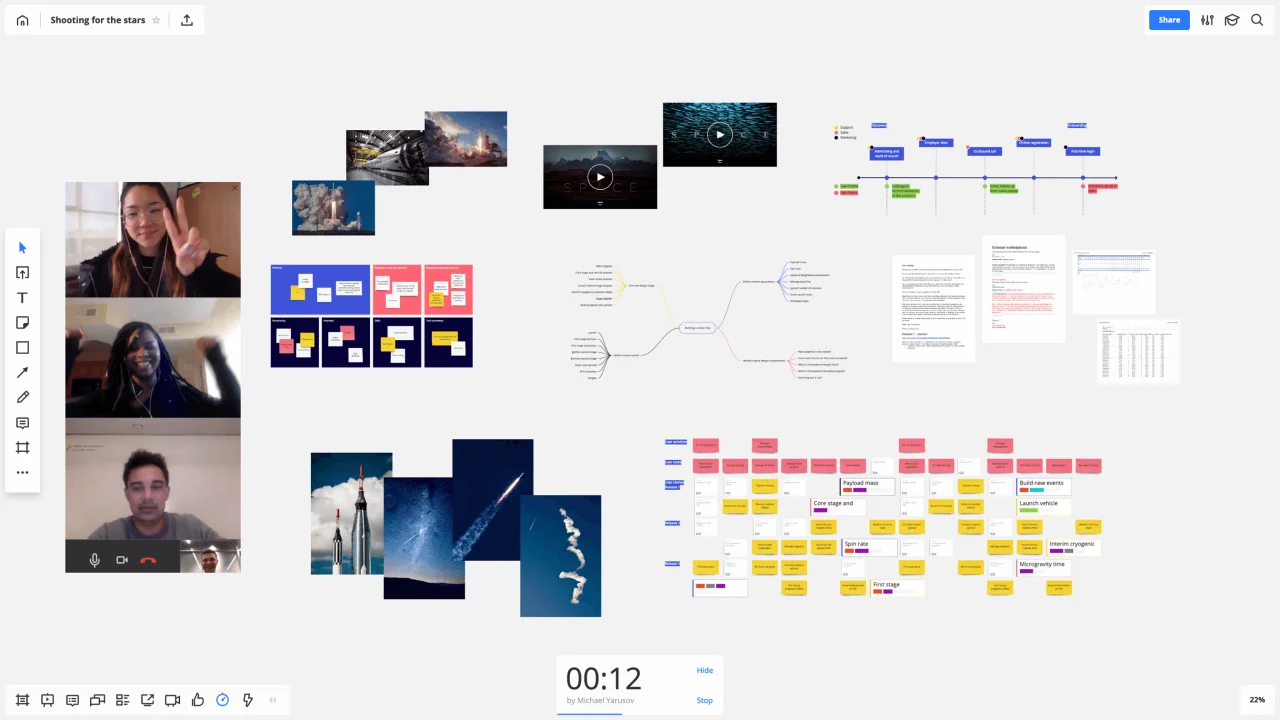 Since LinkedIn only tells you so much, here's the inside scoop:
My journey into the world of (SaaS) marketing actually started with broadcast journalism many years ago. Before I started university, I was set on becoming an investigative journalist or a forensic scientist. This was pre-Netflix days, but I would still binge watch TV programs like 20/20, Nightline, and generally, anything news related.
As a kid, I always had a variety of interests so studying journalism just made sense to me. I thought it would give me the most mobility to explore a wide range of topics and utilize technology on the field, while also elevating people's voices by telling their stories. Plus, I figured you need to know how to communicate, write, and ask the right questions to get anywhere in life.
But when my last year of university rolled around, it became apparent that I'd have to move to a tiny city and start my reporting career in a small market before making my way back to larger markets. I loved everything about the news and reporting, but I felt called to stay in LA.
A couple of months before graduation, a casual conversation with a friend led to an introduction to a recruiter at a company down the street. Enter marketing. I landed a paid internship where I focused on SEO and content marketing. (I had no idea what SEO even was. I just prepped for the interview as best I could.)
I had no idea what SEO even was. I just prepped for the interview as best I could.
I ended up staying at that company for a few years where I got promoted twice within the demand gen/acquisitions team. Towards the end of my time there, I had unknowingly dabbled in product management and UX-related projects; I just wanted to help strategize and build products that customers would find valuable.
Yet again, a conversation with a recruiter who had reached out turned into an opportunity to pursue product management at an ed-tech startup. I had the opportunity to work on an in-product monetization strategy while building out payment platforms to monetize international web properties. I also heavily focused on customer research and development.
After that, my next role led me back into marketing — this time product marketing.
The combination of focusing on customers, products, and storytelling was everything I was looking for. I worked extensively alongside enterprise sales, success, and product teams. There was great "experience-job fit"…like product-market fit, get it? Sorry, bad product marketing joke. Anyways, now I've been in product marketing for a couple of years, and I intend to further hone my skills in this area of marketing.
They say hindsight is 20/20. I can see how all of those days and nights in the news studio preparing for interviews, writing scripts and stories, editing in dark edit bays, and more developed the crucial skills I have today.
What's the biggest marketing challenge you've ever faced? How did you overcome it?
Whether internally or externally, the biggest marketing challenges I face always deal with battling the status quo. Internally, I've been in several situations where companies, teams, and founders have a hard time letting go of their marketing baggage. The spectrum can range anywhere from "we've always done it this way" to  "this is what the customer wants" (but without any recent or real customer research).
I remember a specific situation where I had made some suggestions around revising copy on our landing pages, emails, ad campaigns, etc. The initial version highlighted features and benefits, but it was clear that it still lacked customer research. No matter how many A/B tests were built to test the aesthetics of the page, users weren't converting.
My hypothesis was that we couldn't compel users to sign up because didn't give them a clear reason to. We didn't have strong value propositions. How could we when we just assumed what they were and never conducted customer research?
I've been in several situations where companies, teams, and founders have a hard time letting go of their marketing baggage.
I ended up running a few surveys on our site (informed by Momoko Price) and getting in touch with users (both customers and non-customers).
Eventually, it wasn't my version vs. the current version — it was the customers' words vs. the current version. I used the responses to open-ended questions as swipe copy. As Momoko Price puts it, "they [customers] know exactly what your brand's best value proposition is. All you have to do is ask them!"
What's the one marketing tactic that has worked for you over and over (aka your 'secret' weapon)?
I can't say I have a "tactic" really, but I found that focusing on seeing connections has been a skill I've developed over the years. For example, if you're in SaaS, don't just focus on companies that build SaaS products, do SaaS marketing, etc. Marketing doesn't exist in a vacuum. Get inspired and learn from those outside of the industry and verticals you focus on (here's a great example of this!).
Just be sure to identify and intently follow companies with loyal and outspoken customers. See how they're interacting and engaging on review sites, social media, forums, Q&A sites, article comments, and everything in between. Keep a swipe file of quotes, ad screenshots, landing pages, and more so you have them handy. I use Miro to easily do this (even before I started working there!), but the point is to build a personal library of these examples that you can easily reference.
Here's a recent thing I've been thinking about: how could I apply the best practices of an e-commerce product page to this concept of packaging solutions? When it comes to Miro, in what ways could I bundle specific features and make "kits" (just like those popular subscription-based boxes) that highlight aspects of the product in a meaningful way?
Marketing doesn't exist in a vacuum. Get inspired and learn from those outside of the industry and verticals you focus on.
Some of the best "customer-centric" people to learn from are entertainers, athletes, singers, YouTubers, etc. You can glean a lot from studying how they interact with their fans and followers. For example, in product marketing, we're often thinking about how to launch product features. '
Instead of only looking to other product marketers or companies for creative storytelling ideas, I was actually inspired by an interview I watched where Tori Kelly was explaining her thought process on producing a sonically cohesive album. Before she even publicly announced an album was coming, she was already testing out the newly formed songs on the road. From there she tweaked the song arrangements and ended up releasing the album 6 months later. Of course there are entire teams of people behind successful album releases, but drawing these connections can help you brainstorm creative ideas and solutions.
(Side note: If you watch the interview, notice how Zach Sang does an incredible job of interviewing his guests. The questions he asks shows the amount of research, interest, and curiosity he has and there's plenty there to learn from that can be applied to customer research and interviews.)
What's the best example of marketing you've ever come across?
The one that immediately comes to mind is Drift. The fact that every employee seems to be telling the same story isn't an easy feat to accomplish. From the outside looking in, the consistency in positioning shows there's clarity in vision and focus.
I've also been following Lessonly closely as their marketing team, led by CMO Kyle Lacy, has made it their mission to invest in brand.
Using the term "B2B" just doesn't seem to be accurate these days because we're still selling to people and not this intangible entity "the business," but brand will play a huge factor in a company's success. And it's not only about aesthetics, but creating this end-to-end experience for customers.
If we personify brand, it's like the fingerprint of a business. It's something that should be true to the essence of a business, something that is unique and can't be manufactured or replicated. Along with a solid product, brand will differentiate businesses in crowded markets.
What's your number one advice for folks who want to become marketers?
This may seem counterintuitive, but if you're just starting out and trying to land a marketing role consider going into sales first.
The partnership between sales and marketing is crucial, and all too often I've come across marketers that are unaware of sales strategy and process. They're reading all about marketing, but aren't devoting time to understanding the other key components of the business and so these concocted marketing strategies are out of touch and fall short.
If a stint in sales isn't possible, at the very least start increasing the level of interaction you have with the sales team. They're on the frontlines speaking with users and customers day in and day out.
If they use sales coaching software, find a way to listen to as many recorded customer calls as you can. Or ask if you can shadow their next call and then follow up with a discovery Q&A with the rep. The focus here is to learn from them. I would even suggest going as far as handling a few inbound or outbound calls yourself. The forced empathy (for customers and your fellow coworkers) will often teach you a lot more than anything you can ever read.
The partnership between sales and marketing is crucial, and all too often I've come across marketers that are unaware of sales strategy and process
What do you think marketers should learn today that will help them in the next 10, 20, or even 50 years?
Marketers should focus on learning how to learn. Technology changes, thought leaders and influencers come and go, and competitors are always on the rise. But if you can learn how to deconstruct concepts, subjects, and topics, you'll become more adaptable no matter how things change. Invest in your own learning and development by signing up for sites like Skillshare, Coursera, or edX to name a few. I haven't taken it yet, but Coursera offers a course on "Learning How to Learn."
On the same note, take a liberal arts approach to learning and expand the scope of what you read and listen to. Resources on psychology, persuasion, and similar topics can help broaden the way you think about marketing as a whole.
What are the top three resources that helped you the most in your career?
How about four? I'm always on the hunt for practical advice that I can apply immediately. Here are the top resources that come to mind:
#1 – Webinars and workshops from Forget the Funnel by Georgiana Laudi and Claire Suellentrop
#2 – Recently released book on positioning "Obviously Awesome" by April Dunford
#3 – The ultimate starting point for customer research & development, JTBD.info managed by Alan Klement
#4 – Work is more than your job; it's also about the people you work for and with. "The First 90 days" by Michael D. Watkins provides a practical guide to help you effectively step into every new role.
What are your plans for the future, and how can we help?
I'm looking to connect with marketers that work in product-led growth companies. PLG is the next wave and there isn't a playbook for it, so if you know anyone who's up to chat, I'd appreciate the introduction!
Where can folks connect with you, and learn more from you?